Category: Ramblings
My New Project
Published on Tuesday, 15 April 2014 10:26
Faelandaea
0 Comments
So a few months ago I found myself searching for some things online related to Renaissance Faires I am interested in attending. I like to research various things such as entertainers, events, etc. I noticed I had to troll Google a LOT to get the information I was looking for. Fuck that.
Therefore I started work on a directory to list EVERYTHING having to do with the United States Renaissance Festival scene. And I mean EVERYTHING . . . artisans, online stores, blacksmiths, guilds, groups, SCA/LARP gatherings, catering, education, photographers, authors & publishers, performers, drumming circles, and of course RENAISSANCE FAIRES of all types.
I am hoping that some of you will check out my new site I just launched. http://renaissancedirectory.com
I also have a twitter for the project, so if you are a Twitter addict, please add RenDirectory and spread the word!
EDIT!!!! I almost forgot . . . here is a pic I took last night of the little eclipse we had, which everyone keeps referring to as a "Blood Moon".  I love the fact that this occurred right after I wrote my article about the moon (see below), since i did not realize this event was coming until it hit the news that day.
Pot Calls The Kettle . . .
Published on Monday, 24 March 2014 20:10
Faelandaea
0 Comments
Okay so to keep a long story short, I just read the biggest line of bullshit I have ever read about someone's opinion about the paranormal.
Bonnie Vent has posted multiple times throughout the last few years that she believes that paranormal investigations are "Hollywood" and "Fake", and that Paranormal Investigators are just a bunch of liars and use no science. She's even got an entire staff that is dedicated to debunking the sciences of paranormal investigation.
Okay, so she sounds like just another skeptic, right? Wrong. She claims to be a "Spirit Advocate" that speaks to the dead.
What in the hell???
I kid you not . . . someone who claims she speaks to the dead saying that paranormal is a bunch of "bullshit" (her word, not mine). The last time i checked, being a medium is . . . well . . . part of the paranormal investigation world. Her web site – http://www.bonnievent.com/ – just screams paranormal. She states that, "it's her job to help dead celebs like Michael Jackson, George Carlin and "Crocodile Hunter" star Steve Irwin by delivering messages to their loved ones from beyond the grave."
Trust me, lady – Michael Jackson was beyond communication even when he was alive. However, Steve Irwin kicked ass – please give him my regards. Wait, never mind that. Don't. It's an insult to an awesome man of history and education to have someone like you bugging him in death.
In the meantime, until she comes up with forensic, scientific recorded evidence that validates her "gift", she should not be critiquing those of us that actually Do use science to investigate the unexplained.
Exploring the paranormal as an investigator is actually mostly about debunking. A good investigator tries their best to explain the unexplainable using the natural environment around them. Rattling pipes, low frequency sound waves, high EMF emitting from power boxes in a room, ambient sound, pets, rodents – a LOT can prove that so-called "haunting" events are actually just a misinterpretation by the observer of something that is actually normal, not paranormal. When we cannot explain something, it is paranormal. Does that mean it is a ghost? No, it does not. It simply means it is unexplained and as yet has no answer.
Yet . . . our science is "bullshit" while she can sit around going "I see dead people" in Hollywood.
What I think is REALLY amusing is she states that TV reality series, such as Ghost Hunters and Ghost Adventures, "scare" things up and create fluff to boost ratings . . . she says this as if she doesn't have logos from every major network posted at the bottom of her web page. Pot? kettle? Anyone?
/////EDIT///// I wanted to add – before folks start harking on me about my references to Ghost Hunters and Ghost Adventures, I was using irony to point out the amusement of one fake calling everyone in a scientific field fake and using the names of a couple of reality TV shows as her examples. YES, GH and GA are BOTH fake shows. ALL reality TV shows are fake. There is NO SUCH THING as a real reality TV show. It's all acting. I had to mention though because of how hard I was laughing hearing Ms. "I see . . . wait . . . sorry I TALK TO . . . dead people" saying that anyone in the paranormal field is a fake and using those as her only references.
What a laugh.
Catching Up v2.0
Published on Tuesday, 04 February 2014 16:33
Faelandaea
0 Comments
It has been a while since I have posted., but here I sit on a bus headed home and hoping m'lady is okay. Flight delays galore . . . because Texans are, as usual . . . idiots. 'Tis a hell of a connection/layover point for anyone, but alas that was the routing to get her back to Europe.
I am so looking forward to Summer . . .
Star Trek Online – New Ship
Published on Wednesday, 09 October 2013 07:48
Faelandaea
0 Comments
So apparently a new Federation starship is coming out in the morning. Time to grind dilithium so I can get her when she releases. It is due time I get a Battlecruiser in my fleet.
If anyone ever wishes to join me, STO is completely free to play and is one of the few F2P games that is NOT "pay-to-win". The default stuff you get in game is MANY times more powerful than anything you buy from the store. The store stuff for this game is purely cosmetic. This is why I have stuck with this game for the past few years. Just let me know if you are interested and I will send you the link. If you already play Perfect World games, my handle is, of course, @faelandaea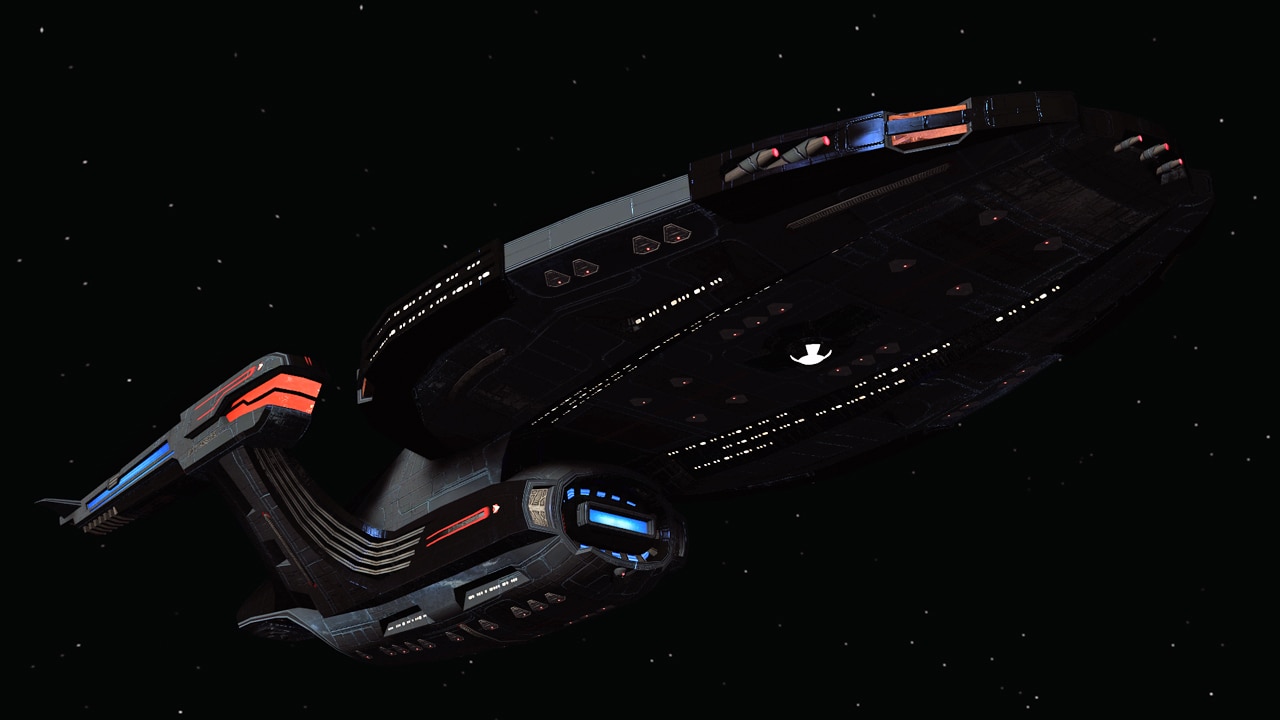 New Bicycle
Published on Thursday, 26 September 2013 11:47
Faelandaea
0 Comments
It's not much, not a 29-er, but it's a start.  Just got her.
Trek Slash 9 27.5/650b
17.5″ Alpha Platinum Aluminum Frame, ABP Convert, Full Floater, E2 tapered head tube, press fit BB, internal derailleur & dropper post routing, ISCG 05 mount, magnesium EVO link, downtube armor, Mino Link, 160mm travel.
Fox Factory Series 34 Talas Front Suspension w/CTD (climb-trail-descend) adjustable FIT damper, rebound, E2 tapered steerer, Kashima coating, 15QR thru axle, adjustable 130/160mm travel.
Fox Performance Series Float Rear Suspension w/DRCV, CTD (climb-trail-descend) damper, rebound, tuned by Trek in California, 8.25×2.375″
Bontrager Rhythm Comp Wheels – Tubeless Ready w/Stacked Lacing, 15mm front hub; 142×12 rear hub.  Bontrager XR4 Team Issue Tubeless Ready Tires, aramid bead, 27.5×2.35″
SRAM X01, 11 speed shifters
SRAM X01 X-Horizon Carbon, 11 speed rear derailleur
SRAM X01, 32T crank
SRAM XG-1195 10-42, 11 speed cassette
Bontrager Evoke 3 saddle, titanium rails with RockShox Reverb Stealth seat post, 31.6mm, zero offset
Bontrager Rhythm Pro Carbon handlebars, 31.8mm, 15mm rise
Bontrager Rhythm Pro stem, 31.8mm, 0 degree
FSA NO.57E headset, E2, sealed bearings
Avid X0 Trail hydraulic disc brakeset